What was the best new battery equipment on show at Saltex?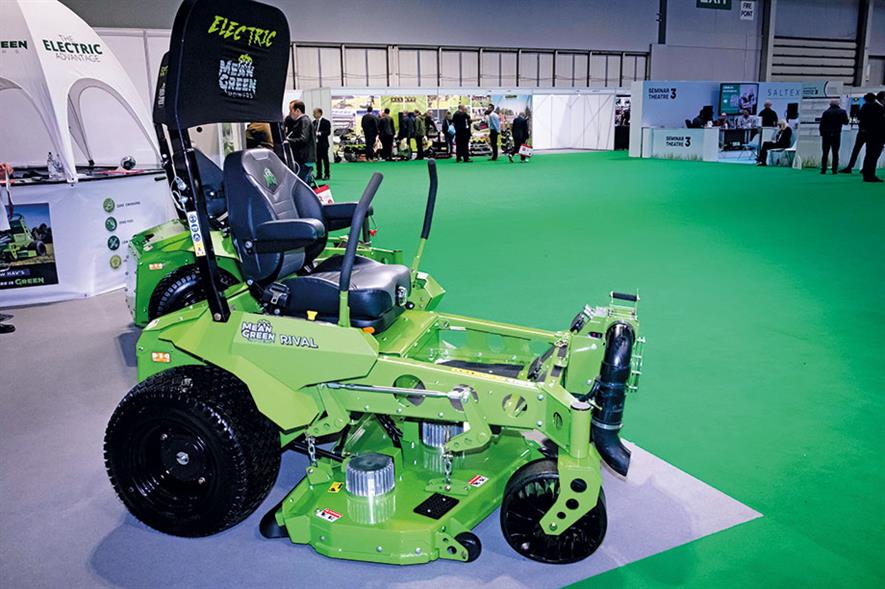 Making its debut, the Farmtrac all-electric FT25G tractor won the Saltex Innovation Award in the environmental and sustainability category. The tractor is seen as a big step forward on the path towards fully sustainable machinery in the grounds care and horticulture markets.
"We are incredibly proud to have received this award from the GMA [Grounds Management Association] and its judging panel," says Steven Haynes, tractor sales manager at Farmtrac distributor Reesink Agriculture. As the first company to enter the market with an all-electric compact tractor, Farmtrac wanted to ensure that this tractor could perform as well as any diesel compact without any major drawbacks for those choosing to go electric.
"A lot of time has been spent on the design and test phase to ensure that it could meet or exceed the performance levels of diesel machines, with the added benefits that come from being battery-powered. We feel this is something that we have been able to achieve with the FT25G, so to be recognized for this by the GMA is a great accolade for us."
The FT25G features a 72V lithium-ion battery and onboard charger. It can be charged from any domestic socket to 100% in eight hours, a full charge giving seven hours of operation.
The Etesia ET Lander electric utility vehicle (above) won the Saltex Innovation Award in the vehicle category. Built for both on-road and off-road use in towns or countryside, this 100% electric unit has a three-way tipper bed with dual control from the two-seater cab or by remote control outside the cab. It is fitted with 72V 220Ah lead acid batteries, producing 15.8kW, for full working day operation. Transporting up to 940kg, it has integrated loading ramps to allow the transport of materials, ride-on mowers and other maintenance kit, while also towing up to 750kg.
Responding to the demand for zero-emissions, Reesink e-Vehicles unveiled the RECO eTrac electric tool carrier for green space maintenance. With a choice of battery packs, it can work a full day on tasks such as weed brushing. Features include rear-axle steering for manoeuvrability in narrow spaces.
Roon Hylkema, managing director of the Reesink Turfcare division of Royal Reesink, explains that comfort comes as standard: "The RECO eTrac has a modern and quiet cab environment from Mathieu. With an extra-low windscreen and glass door panels, operator visibility is optimised, the panoramic front window providing an excellent field of view. The ergonomic seat, like the steering column, is fully adjustable for the perfect position and, thanks to the air conditioning and heating, work is pleasant and safe in all weathers."
Also shown by Reesink e-Vehicles, the Capella load-carrying work machine from the STAR EV brand is a plug-in electric utility vehicle designed to move people and equipment. It is powered by a 48V 5kW motor with a choice of two high-powered lithium-ion batteries charged via an on-board Lester charger. The Capella has a range of up to 60 miles at speeds up to 20mph and has a climbing ability of 20%. The hydraulic lift rear cargo box has a 670kg capacity.
Electric mowers
The number of companies launching electric mowers shows that the age of battery power has truly arrived — as well as the requirement for zero-turn machinery. Ariens introduced its Zenith E battery-powered zero-turn ride-on. A fully commercial mower, it features four FusionCore lithium-ion batteries to offer 5.5 hours of continuous cutting on one charge. The 10-gauge steel deck gives a 1.52m cutting width. Comfort is provided by a high-back, full-suspension seat with padded armrests.
EGO Power+ introduced the Z6 (above), a 1.07m zero-turn ride-on mower. Boasting the power and performance of a 22hp petrol equivalent, the Z6 can be powered by any combination of the company's 56V ARC Lithium platform batteries. With a capacity of up to 75Ah and utilising EGO's Peak Power Technology, the Z6 is capable of cutting in excess of 1.2ha on a single charge.
Peter Melrose, managing director for EGO in Europe, says: "It truly is a first for our industry — a ZTR with the ability to utilise a platform-compatible battery that can be used for a ride-on mower through to powered hand tools and specialist arborist equipment."
The latest zero-turn ride-on from Mean Green Mowers, the 52in lithium Rival (main image), was highlighted by UK distributor Overton as comparable to a 36hp petrol mower. It features an all-new hub drive system designed from heavy-duty excavating equipment and has a forward speed of 11.5mph, which it can reach from zero in just 1.3 seconds. The new patent-pending SmartDeck rapid height lift system and battery/drive wheel arrangement provide stability on slopes up to 20 degrees.
Walk-behind battery-powered mowers were also unveiled at Saltex, including the Allett Mowers Sterling cylinder (above). Managing director Austin Jarrett predicts that Allett is unlikely to have any petrol engines in its range by 2025.
Two mowers in the Toro Heavy Duty Proline range have been given the battery treatment. As additions to the domestic line-up, both are suited to entry-level use and powered by a 60V lithium-ion battery that is interchangeable with the Toro Flex-Force garden machinery range.
Toro-branded kit on the Reesink Turfcare stand represented a greener future with the new electric Greensmaster eFlex 1021 pedestrian mower. This lithium-ion battery version of the popular flex-head walk-behind Flex 1021 greens mower features a telescopic handle adjustable to five distinct positions.
Adding more technology to its already iconic cylinder mower range, Infinicut launched updates to its InfiniApp. All Mk6 models of the walk-behind mower offer wireless connectivity and operation via the app, which is available for Android and IoS devices and features a live dashboard for monitoring and adjusting traction and reel speed.
Also new from Infinicut is an adaptation kit that transforms a John Deere JD 2500 triples into a lightweight 85in dedicated sports turf mower. The kit features three 30in cutting reels and large-capacity grass boxes. No fabrication, hole drilling or other modification is required to the original traction unit.
Growing portfolio
As the industry sees a substantial growth in the use of electric machines, so PSD Groundscare has grown its portfolio to include AS-Motors' E-Professional lawn mowers and E-Mulching mowers. For tackling high, dense vegetation, the E-Allmähers is a battery-powered walk-behind brushcutter resulting from a partnership with EGO Power+. Weed removal without chemicals is possible with the range of E-Weedhex models for use on hard surfaces.
In the Köppl brand, PSD launched the latest battery-powered two-wheeled tractors for professional use. The Compact Easy eDrive and Compact Comfort eDrive offer up to eight hours of operation, depending on attachment, for weed removal, snow blowing, sweeping, mowing, stump grinding or stone burial.
The RoviMo (above) took centre stage on the PSD Groundscare stand. It is the world's first intelligent electric vehicle capable of mowing patterns autonomously according to the guidelines of international football associations UEFA or FIFA, including mowing horizontally, vertically and with chessboard patterns. Operation is via an app. RoviMo is being further developed for use on golf courses and for other tasks such as maintenance of artificial turf and line marking.
Makita UK has expanded its cordless power tool range with the new 36V LXT cordless brushless pressure washer featuring a 50-litre tank and running off two 18V lithium-ion batteries, the LM001CZ professional lawn mower using Makita's latest backpack battery and the UB001CZ LXT brushless blower, which also runs off the backpack battery so users only have the weight of the tool on their arms.
A new high-powered brushcutter delivering the equivalent of 70cc and capable of heavy-duty clearance work, the Pellenc Excelion-V2 has a rotational speed of 6,600rpm. Intended for intensive landscaping and forestry work, it weighs less than petrol-powered brushcutters and is offered with loop or cow handles.
Smart control comes as standard, so the user can select the head while in use and allow the brushcutter to adjust the power for different types of work — brush clearing, weeding, mulching, sawing or mowing thick vegetation. A display gives real-time information on speed, battery life and power.
(C) 2022 Horticulture Week to regularly read articles subscribe to Horticulture Week or for limited access visit Horticulture Week