Christmas tree prices - why not to panic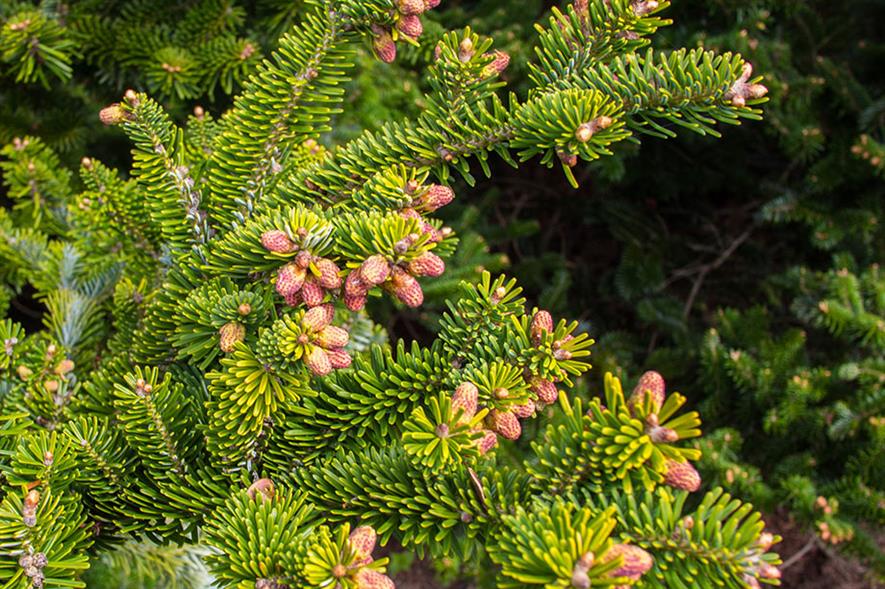 Media stories suggest 25% increase in retail prices on some Christmas trees but Alton Garden Centre director Andy Bunker says while he agrees we do have extra charges, they are "nowhere near" a figure to affect retails that much.
Christmas trees will arrive at many retailers on 15 November, but Bunker says consumers should hold off a week, and should not be paying more than last year if they shop around.
The Sun has reported some garden centres say Christmas tree demand is up 250% and prices have risen £10 a tree. Newburgh Christmas Trees in York says in the newspaper it fears panic buying and that there are fewer Christmas trees available because of unsuitable growing weather in Scotland. It says one garden centre has seen pre-season orders rise 250%. Pallet prices have risen from £23-£45 because of timber shortages. HGV drivers are in short supply, as are seasonal workers. Newburgh opens for sales on 26 November.
Newburgh's Stephen Wombwell tells Horticulture Week: "At Newburgh Christmas Trees, we sell trees into both the retail and wholesale market. Last year, retail and wholesale demand was high, but there was also a good supply of trees. This year we expect a similar demand, but the supply is going to be more problematic. As I mentioned before, Scotland had a bad growing season and a lot of trees are grown in Scotland as well as this a large number of trees are usually imported from the continent, and we are all aware of the supply chain issues facing imports and exports. The latter is no bad thing, as there is no reason why we should not be self-sufficient in producing our own trees.
"The costs to the growers are going through the roof as many of our inputs have doubled from last year. We are working very hard not to pass this cost on to the consumer but inevitably there will be price increases this year – there simply has to be. Our production and shipping costs have nearly doubled from last year. I suspect those that are able to hold prices were quite high to start off with.
"The final unknown piece of the puzzle is the panic buying that we have seen with other products from loo roll to fuel – how will the public react if they think there may be a shortage. "Ultimately I think there will be enough trees this year to go around we are confident that we can meet all our demand both from a retail and wholesale perspective and most growers I talk to are of the similar opinion."
Chris Bonnett, CEO of Gardening Express in Chelmsford, Essex, said in The Sun he has increased the price of a 6ft Nordmann fir from £39.99 to £49.99. Bonnett told Horticulture Week there has been transport and courier surcharges because of a lack of drivers. His sales start on 22 November and 25% of the original allocation has gone. He says his prices were held at £39.99 for seven years and £49.99, plus £6.99 shipping, is still very competitive - many garden centres have charged £49.99 undelivered for some years.
Tillington Group buyer Andy Bunker says: "We have an extremely wide range of both growers and wholesalers right across the UK supply chain and while there are some price increases and surcharges due to transport costs from my price lists it is 10% at maximum. "Even if you take the pallet prices going up, based on the average of 80/90 trees in the 6`/7`size per pallet that only equates to another 24p/25p a tree. "I have a small surcharge and no shortage of trees from my regular UK grown supplier. It is not even significant enough to move my retails at all.
"The only concession is having to be more flexible on when deliveries are arriving and working with my suppliers, as I agree there are certainly transport issues [caused by a shortage of lorry drivers]. "I do worry though for retailers taking trees in as early as 15-16 November, which ultimately means retailing from the 20-21 of November. "With all the hype about Christmas starting early some customers will put trees inside straight away after purchase – that's two weeks too early in my opinion. "Many of these sales will lead to customers being unhappy with the tree over the main festive period and creating self-inflicted negativity for real trees." Bunker said prices were up only £1 for most retailers and for imported pot-grown trees with 1,600 in a consignment, up 50p a tree or 3-4% to around £14, with premium 6ft cut Nordmanns at around £19 wholesale.
Wholesaler and grower Jadecliff said in September prices were up 3-5% because of extra transport, labour and Brexit paperwork costs.
Kasper Graven of Kortegaard in Denmark says despite added paperwork caused by Brexit, and a doubling of the price of pallets and netting, as well as labour shortages, the market will be about the same as last year. He said while Brexit affects imports from the EU, the UK has to deal with a lack of labour to harvest trees, with no EU seasonal workers allowed for non-edibles this year: "Most people have accepted a small price increase."
The British Christmas Tree Growers Association has a buy local message this year: "All our members set their own prices and from what we have been told some of them are increasing prices (but not hugely), some of them are keeping them the same as last year. "Our campaign is to buy real Christmas trees and British Christmas trees – then buy local if you can. The first two are the key and the third is great for those who can buy locally."
From 22 November Hillier will have delivered thousands of UK-grown Christmas trees to its garden centres. In early December, Festive Celebration Evenings will begin with light switch-ons, festive entertainment and mulled wine. There are festive menus and wreath and table decoration workshops from 6-10 December.
#Because of carbon emissions concerns, this year, online retailer Box & Sprout are offering their customers a choice. They are only selling living trees in pots, so the customer can choose to keep the tree until next year. Or Box & Sprout will come and collect every Christmas tree that they sell, with the customer receiving a 20% voucher for next year's tree.
(C) Horticulture Week, please subscribe by going to www.hortweek.com