Prunus species vulnerable to beetle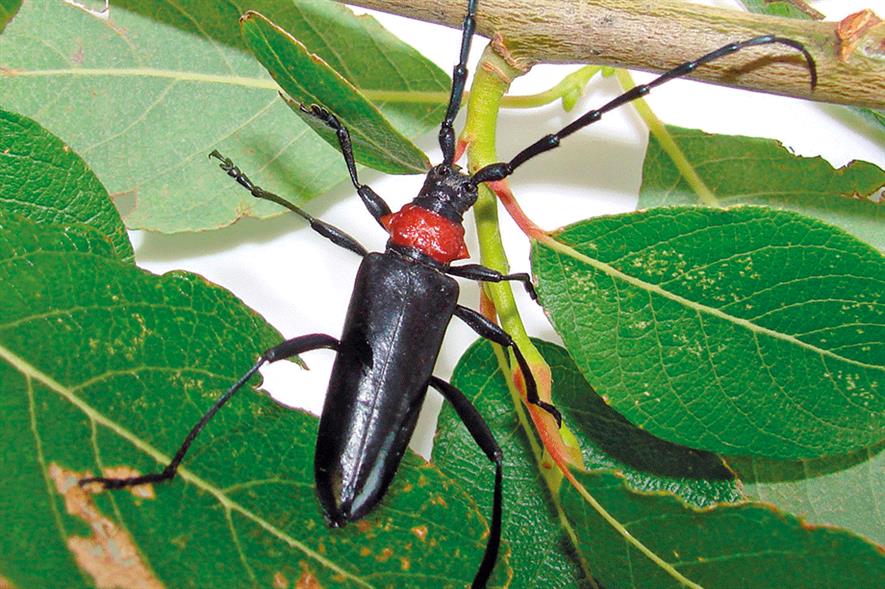 The invasive red-necked longhorn beetle could cause substantial
economic damage if it reaches the UK, Sally Drury cautions.
Red-necked longhorn beetle (Aromia bungii), sometimes called red-
necked longicorn beetle, is an invasive, highly damaging, wood-boring pest of Prunus species including apricot, cherry, peach and plum, as well as some ornamental Prunus, resulting in substantial economic damage. It is not currently present in the UK, but breeding infestations are present in the Bavaria region of Germany, as well as in Campania and Lombardia in Italy. A. bungii is a notifiable pest and suspected sightings must be reported to the relevant authority (see below).
Origin and distribution
Native across much of Asia, including China, Korea, Taiwan and Vietnam, it has been introduced into Japan and in 2008 was detected in the UK, on wooden pallets in a warehouse — the beetles were eradicated. In 2011, it was discovered in an old damson plum tree in a private garden in Germany and, although the tree was promptly destroyed, several others in the area were found to be infested in 2016. A. bungii was also found in parks, gardens and orchards in Campania, Italy, in 2012 and in the Lombardia region in 2013. Both the German and Italian outbreaks are officially "under eradication".
Identification
Adult beetles have elongated, shiny blue-black bodies, about 20-40mm in length. They have a distinctive bright-red "collar" (pronotum) behind the head, where a pair of stout, spine-like tubercles can also be seen. The antennae are as long as the body and are black, as are the long thin legs. Adult A. bungii differ from Europe's native A. moschata (musk beetle), which is uniformly metallic green, blue violet, copper or black, and is present in south-east England.
The eggs of A. bungii are yellow-green-white in colour, sub-cylindrical and about 2 mm in length. Mature larvae are 40-50 mm long, pale-yellow or white and with a segmented body tapering towards the abdominal apex. Pupae are 22-38 mm long and light-yellow, but darken as they develop.
Life cycle
Females mate several times and during their lives will lay between 350 and 700 eggs in bark crevices. The first-instar larvae hatch in around 10 days and penetrate through the bark to bore galleries in the phloem. Larvae develop and overwinter in the wood of Prunus species, possibly passing through two or even three winters before pupating. The adult beetles emerge from June to August.
Spread
Nursery plant imports and wooden packaging materials containing beetle eggs, larvae or pupae are considered to be the main pathways of accidental introduction. Adult A. bungii can fly. There is no data on distance or dispersal, but it is thought that, because other longhorn beetles such as Asian longhorn and citrus longhorn beetles (Anoplophora spp.) only fly should short distances, adult A. bungii are unlikely to fly more than a few hundred metres.
Control
In China, entomophathogenic nematodes (Steinernema carpocapsae) have been used to control A. bungii. Plants must be destroyed for effective control. Importers of Prunus and goods supplied in wooden packaging should be alert to this pest.
ESSENTIAL INFORMATION
Hosts
Although unconfirmed reports exist of A. bungii on plants belonging to 11 families, it has only been observed on Prunus species in Europe:
American plum (P. americana)
Apricot (P. armeniaca)
Cherry (P. avium)
Cherry plum (P. cerasifera)
Common plum (P. domestica)
Damson (P. domestica subsp. insititia)
Japanese bird cherry (P. grayana)
Korean cherry/flowering almond (P. japonica)
Japanese apricot (P. mume)
Peach (P. persica)
False cherry (P. pseudocerasus)
Japanese plum cherry (P. salicina)
Yoshino cherry (P. yedoensis)
Symptoms
Although the adult beetle is distinctive (see Identification), the first sign of A. bungii is likely to be heaps of larval frass at the base of infested trees. Holes from which adults have emerged are around 12 mm in diameter. Confirmation can be made by removing bark to look for larvae, or cutting through the trunk to look for mature larvae and feeding galleries in the heartwood. Serious infestation causes tree decay, lower fruit yield and tree death.
Reporting
There is a legal requirement — Plant Health (England) Order 2005 and the Plant Health (Forestry) Order 2005 — to report suspected infestations. Reports of sightings in Great Britain should be made using the Forestry Commission TreeAlert pest-reporting tool. Sightings in Northern Ireland should be reported to the Irish plant health authorities using TreeCheck.
Suspected sightings on plants in the trade in England and Wales should be reported to the Animal & Plant Health Agency (email: This email address is being protected from spambots. You need JavaScript enabled to view it.; tel: 0300 1000 313).
In Scotland, contact the Scottish Government Horticulture & Marketing Unit (email: This email address is being protected from spambots. You need JavaScript enabled to view it.; tel: 0131 244 8923).
In Northern Ireland, contact the DAERA Plant Health Inspection Branch (email: This email address is being protected from spambots. You need JavaScript enabled to view it.; tel: 0300 200 7847).
(C) Horticulture Week For more information visit the magazine This is produced for personal research and use only